5 do's for an effective welcome campaign

First impressions count. Various studies have shown that the image that is shaped during a first impression is difficult to change. In addition, it often sets the precedent for all future interactions. Many of us are aware of this. We put a lot of effort in making a good first impression during a job interview or a first date, amongst others. However, the effort we put into making a good first impression in face-to-face interactions, doesn't always return at the same level with regards to email - even though it is just as important. A good first impression through email can be made with an effective welcome campaign. A welcome campaign is the first (few) email(s) that you send to new subscribers, shortly after they have signed up for your email list. It can be seen as an icebreaker and its main objective is to introduce your brand. A good welcome campaign can lead to higher open and click rates for future mailings and up to 3x more revenue in comparison with other promotional email campaigns. In addition, a welcome campaign can help you keep your list clean and improve your deliverability. In this blog post we share 5 "dos" for an effective welcome campaign.
1. Send your first welcome email immediately after registration
On average, welcome emails have a higher open rate compared to other types of email, but the moment you send the email plays a key factor in this. The longer you wait to send out that first mail, the fewer recipients will open the mail. If you do not send the email immediately after a new subscriber signs up, it becomes more likely that the recipient will no longer remember signing up for your emails at all. This also increases the chance that the email becomes less relevant to the recipient.
Ideally you send out the first email on the same day as the registration. If you send out the email on this first day, you will see that about 75% of the subscribers open your email compared to 13% after one day and 7% after two or three days. With Copernica you can automatically send welcome emails to new recipients.
2. Decide what you want to achieve with your welcome campaign and how many separate emails you want to send during the campaign
Apart from introducing your brand, there are several other objectives that you can achieve with a welcome campaign. For instance, you can:
Stimulate a new subscriber to make the first purchase or take a different type of action (such as reading one of your blog posts).
Invite the subscriber to follow you on Social Media.
Get to know more about the preferences and interests of the subscriber.
Inform the subscriber about your products and services.
It is important to first set a clear objective for your welcome campaign (what this will be exactly, depends on your industry and the products and services that you offer). Based on that, you can decide how many emails are needed in your campaign in order to achieve this objective. In many cases, you want to reach more than one objective with your campaign. Be careful here though; nothing is more annoying than a welcome mail in which too much information is communicated. This does not make a good first impression. Instead, you can decide to send multiple emails over a longer period. In this way you prevent overflooding the new subscriber with information, and you increase the customer touch points at the same time.
3. Let the subscribers know what they can expect from you, or ask them what they expect
The welcome campaign can be beneficial to your deliverability, because it helps set the right expectations amongst your subscribers (with regards to the frequency and content of your emails). Incorrect expectations increase the chance of spam complaints and are potentially detrimental to the trust that customers have in you. Even if you believe you have set the right expectations through your sign up form, it is good to do this once more in your email. It CAN happen that a subscriber decides to unsubscribe after all. While this is not necessarily what you want, it will be good for your spam ratio later. Therefore, make sure that new subscribers can easily unsubscribe. You don't want to bother them with emails that they are not waiting on anyway.
Another thing you can do to set the right expectations, is to send an email with a link to a webform where subscribers can submit their preferences. In this way, you don't only use the welcome campaign to inform subscribers about your brand, but also to collect more information on them.
Case: To keep the threshold low for signing up for the email list, Dutch daily travel deals site Voordeeluitjes only asks for an email address. A few days after signing up, new subscribers receive an email with a link to a webform where they can submit their preferences, such as which holiday destinations they are interested in (Spain, France etc.) and whether they are interested in hotels, or full trips etc. Their preferences get added to the email marketing database and they land in a separate section where emails are sent to tailored to their preferences. This email has an open rate between 45-50% and a click through ratio of 25-30%.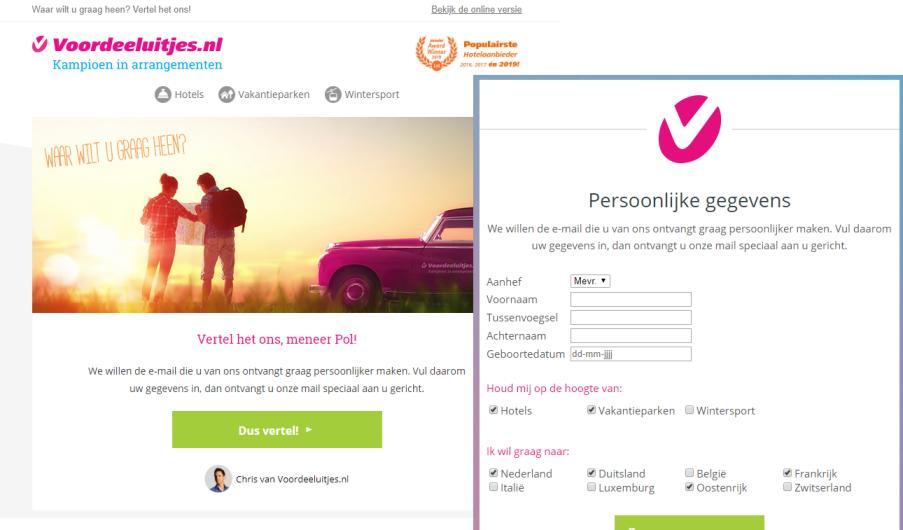 4. Add a discount code
Aside from the right timing, adding a discount code can also be beneficial to your open rate. With a discount code you can thank new subscribers for their interest AND you can stimulate a first purchase. Because the relevancy is quite high in the welcome period, you will see that a lot of new subscribers will respond quite positively to this email with discount code. Because of this, amongst others, the welcome campaign can get up to 3x more revenue compared to other promotional emails.
5. Give some extra TLC to subscribers who don't read your welcome mails
Reading one or more emails in a welcome campaign, can predict the engagement that a subscriber has with your future mailings. A study by Return Path has shown that subscribers who read at least one welcome email, open about 40% of the other emails from the same sender in the next 180 days. This was only 10% for subscribers who did not read any welcome mails at all. In a campaign that consists of multiple emails, this percentage was even higher. Subscribers that read three emails in a welcome campaign, read 69% of the future mailings on average.
These percentages do not only illustrate how deploying a welcome campaign can be beneficial for the subscriber's future engagement and interaction, but they also provide a valuable insight into the subscriber's current engagement. This information can be used to segment your email list between customers who are very involved and customers who are less involved. Based on that, you can adjust the content of emails accordingly; the customers who are less involved may need a little incentive to get more engaged (through a discount code, for example).
Keep these "do's" in mind with regards to the welcome campaign and you will notice that subscribers will commit to you for longer and deeper. Remember that the welcome campaign is only the beginning of your continuous relationship and keep in mind that you only get value back by giving it first.