Our email solutions
Copernica offers multiple products to cater your email needs
Cloud service to optimize your outgoing emails with authentication, statistics and improved deliverability
Connect to SMTPeter via the powerful REST API to have your emails securely delivered to the recipients inbox.
Visit the SMTPeter website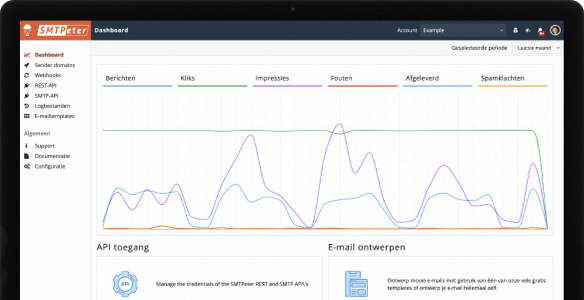 Statistics on delivered messages
After your message is delivered, SMTPeter monitors all feedback such as clicks, opens, bounces and DMARC reports.
Email volume controls for improved deliverability
SMTPeter prevents that receiving inbox providers are flooded with too many emails. This increases the probability the emails reach the recipient inboxes.
GDPR compliancy
All of Copernica's servers are located in the Netherlands. SMTPeter also offers features to easily download data per user in accordance with the GDPR.
Powerful REST API
The easy to use REST API provides you with many options to quickly retrieve, change and create data in your SMTP environment.
DMARC deployment
Tell the receiving ESP what to do if your emails don't seem to be correctly authenticated. You'll be able to view daily DMARC reports through SMTPeter's dashboard.
Web based dashboard
SMTPeter has an extensive dashboard where you can configure your settings and analyze DMARC reports, domain reputation, statistics, log files and much more.
Up to 25,000 emails per month
1 IP address
1 sender domain
Optional: Additional sender domains cost € 10 per domain per month
Optional: Additional IP addresses cost € 20 per IP per month