Sign up for a free 30 day trial
Discover our software easily and without any obligation
The right email to the right customer at the right time
Got a nice email list, but still sending bulk emails with basic personalization? Then you miss out on a lot of sales from email marketing. With Copernica you build highly personalized automatic email flows based on customer data from, among other things, your website and webshop.
Extensive email designer
Optimal profile enrichment
Specialist in deliverability
Follow-up manager
Personal assistance
Extensive email designer
Drag-and-drop elements like banners, product feeds, and countdown timers help you create powerful email templates.
Satisfied with your design? With the library module you save self-designed blocks for reuse in future mailings.
Layered database for optimal profile enrichment
You store customer profiles in a central, layered database. That makes profile enrichment easier than when you work with fixed mailing lists. For example, you can easily add data such as 'interests', 'orders' and 'viewed web pages' under customer profiles. Every interaction leads to a more complete customer picture, which allows you to build even more relevant campaigns.
Powerful segmentations for targeted audiences
You have complete freedom in filtering customer profiles. With and/or conditions you build target groups based on, for example, purchasing behaviour, email results, customer data or a combination of them.
Specialist in deliverability
We help you with analyses, training and advice so that your emails end up in the inbox properly.
Follow-up manager
With the follow-up manager you can easily design automated email campaigns with drag-and-drop elements. You can tailor follow-up actions to customer interactions such as a click in an email or a viewed web page. This way, every customer receives the right message at the right time.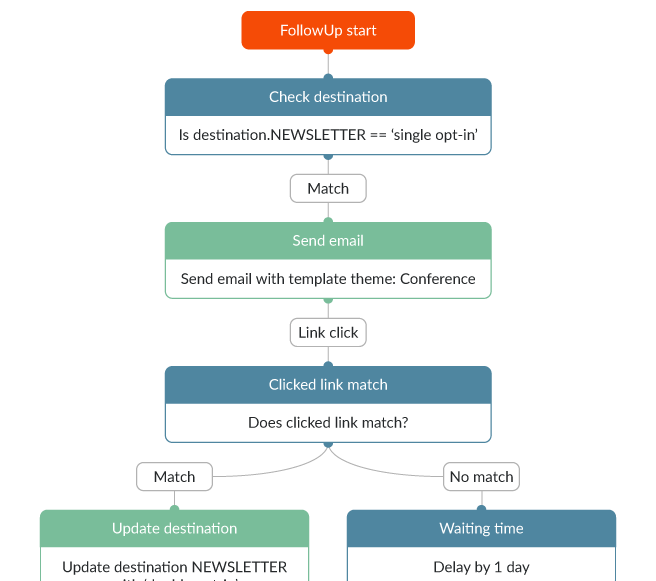 Integrations
There are dozens of integrations available that automatically link relevant data from your webshop, website or application to Copernica.
Discover all our integrations
Get started carefree
During the start-up phase, a personal coach will help you get started quickly.
Your partner in email
With our SMTP servers and Mail Transfer Agent, we also take care of transactional emails and very high email volumes.
More than 5,000 marketers use Copernica to get more out of their email marketing