LeadBoxer integration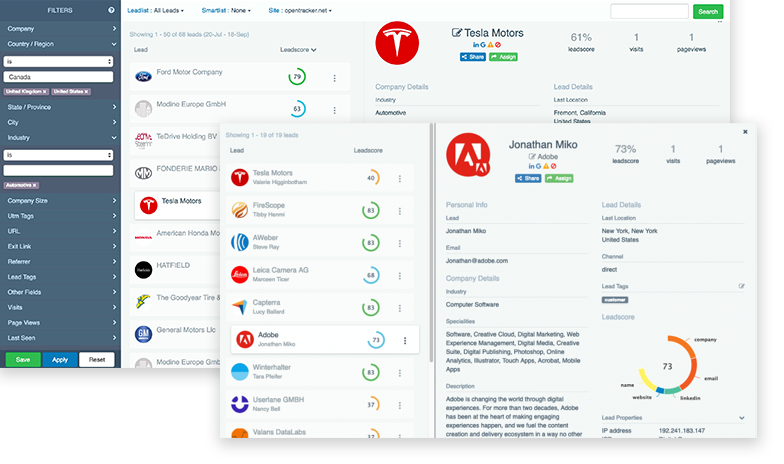 What is LeadBoxer?
LeadBoxer is a lead identification tool. Place a lead pixel in your website and start identifying leads immediately. Identified companies and leads are scored and ranked by leadscore. You can view your leads on a leadboard via desktop/laptop or mobile-device and/or you can integrate and send the information where it needs to go (ie CRM, salesforce, pipedrive, slack, todoist, etc). Convert anonymous traffic into leads and enrich this information with any and all visitor touch-points; forms, logins, free trials, downloads, email newsletters, etc.
LeadBoxer in practice
In today's B2B world, companies are working on optimizing the marketing & sales machine. However, in most cases, (potential) customers have already completed a large part of their online customer journey before ever getting into the hands of your marketing or sales department. This is where the power of LeadBoxer comes into play: By tracking all website visitors (as well as their behavior) and connecting this with Copernica and email behavior, you can bridge the gap between your email database and website traffic. This forms the basis LeadBoxer and offers a number of different possibilities.
Use Cases
Online Lead Generation
Once LeadBoxer has been implemented, it identifies the companies and people that have visited your website. Subsequently, you can create segments based on company or customer data and behavior (we enrich this data with information found through LinkedIn and the Chamber of Commerce), campaign information and more. This process automatically delivers qualified hot leads in a clear dashboard overview. You can integrate this data with your CRM-system or other marketing tools, or you can choose to be notified the moment when an existing customer or prospect has visited a page on your website (pricing information or a whitepaper request for instance).
Email Lead Generation
You might be aware that, on average, only 3 percent of your target audience or email database is ready to purchase. By connecting website and email behavior LeadBoxer is able to identify the hottest leads which can then be passed on to the sales team. You don't longer have to waste time in talking to the wrong people, as you now know who to talk to.
Sales Intel
Since LeadBoxer identifies who visits your website and who reads your emails, you can choose to receive a notification (either through email or in your CRM) everytime prospects or customers visit certain pages, press certain links or open certain emails. In this way, you can know what is going on with your customers, even before the first contact.
Data Platform
LeadBoxer is an advanced platform. It offers a stable environment for collecting, processing and sending huge amounts of data, such as millions of page views. We offer a wide range of tools and technologies that enable you to collect and integrate all this data with your other systems. The raw (and processed) data can be accessed or integrated with our API so that further analysis is possible. Our experts are always ready to help you find solutions for specific challenges or problems.