Our email solutions
Copernica offers multiple products to cater your email needs
Email marketing software for sending personalized email campaigns
Copernica Marketing Suite is an email marketing software platform. It is designed to help businesses and marketers manage and optimize their marketing campaigns effectively.
Schedule an online demo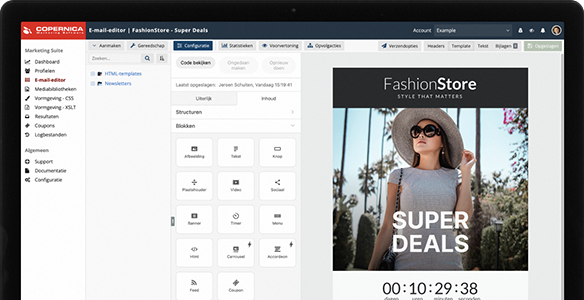 Explore the main features of Copernica Marketing Suite
Layered database for optimal profile enrichment
You store customer profiles in a central, layered database. That makes profile enrichment easier than when you work with static mailing lists. You can easily add data such as 'interests', 'orders' and 'viewed web pages' to customer profiles. Every interaction leads to a more complete customer view, allowing you to build even more relevant campaigns.
Learn more
Drag-and-drop Email editor
Use drag-and-drop to easily create emails with dynamic elements such as banners and countdown timers.
Learn more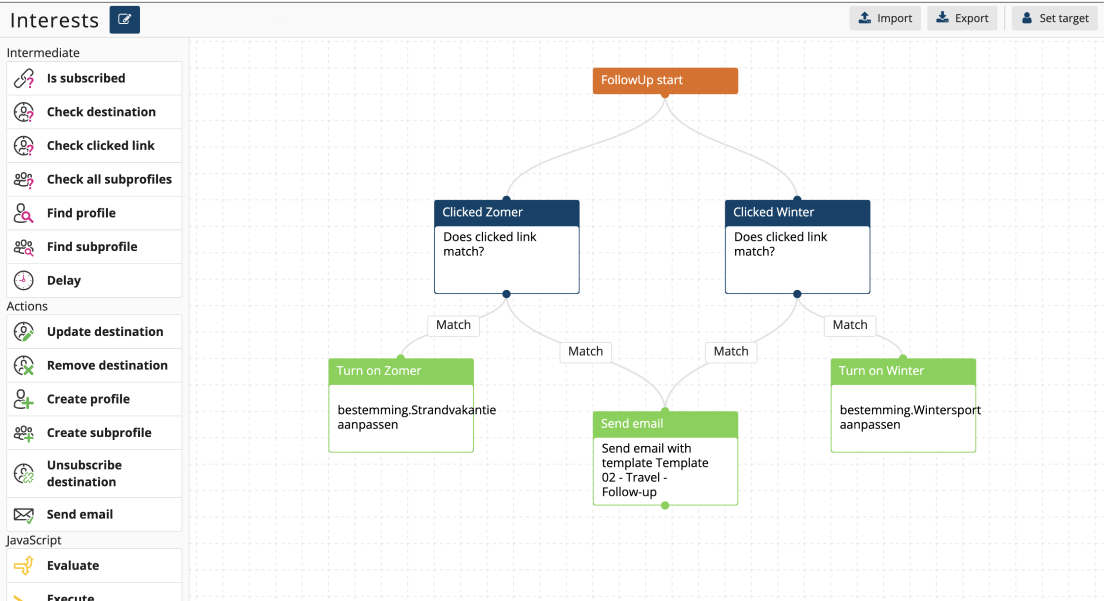 Follow up manager
With the follow-up manager you can easily design automated email campaigns using drag-and-drop. You can customize follow-up actions based on customer interactions such as a click in an email or a viewed webpage. This way every customer receives the right message at the right time.
Learn more
Other functionalities
The Copernica Marketing Suite offers extensive functionalities
DKIM signing
We sign your outgoing email messages with DKIM keys to improve deliverability.
Log files
Easily accessible log files, download or connect via our REST API.
DMARC analyzer
Easily accessible log files, download or connect via our REST API.
Extensive statistics
Complete reports on email performance such as clicks, delivery and much more.
Dynamic content
Conditional content or content blocks based on data from various databases.
Coupons
Add unique promotional codes to your emails to make personal offers.
Multi-language templates
You can translate your email templates into multiple language.
Personalized attachments
Personalized attachments or generate custom PDFs.
Web forms
Powerful web forms, connected to profiles or follow up actions.
IPs and Blacklists
We keep track of which IP addresses are on blacklists to ensure that your email continues to be delivered properly.
GDPR compliant
At Copernica we are GDPR compliant and your data remains on Dutch servers.
Two factor authentication
Extra security through two factor authentication.
Access to all functionalities
Personal onboarding
1 account
1 user
Unlimited data
24/7 helpdesk and support
A variety of email bundles, accounts and extra users can be added.