Personalized wine offers by De Wijnbeurs
Wijnbeurs.nl case study
Only available in Dutch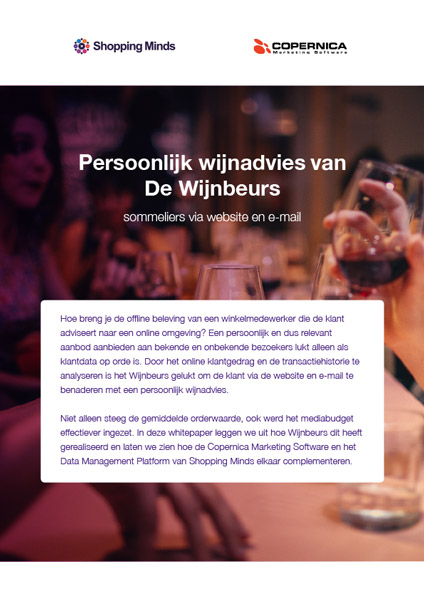 Fill in the form and gain access to the white paper.
We will gather your email address to send you the white paper and to contact you one-off to inform you about our products.
How do you bring the offline experience of a salesperson who advises a customer, into an online environment? Sending out personalized and relevant offers is only possible when your customer data is in order. By analyzing the online behavior and transaction history of customers, Wijnbeurs has managed to approach the customer with personalized offers through email and their website.
By doing so, the following results were achieved: the average order value increased and the marketing budget was effectively utilized. This white paper discusses how Wijnbeurs has realized this with the help of the Data Management Platform (DMP) from Shopping Minds and the email marketing software of Copernica.
Are you curious about the possibilities of automated email marketing campaigns within your sector? Or do you have any other questions, comments or concerns? Please contact us!
Read here how we carefully handle your personal data.