The sophisticated follow up manager
It allows you to plan, create, and manage customer journeys based on your customers' data and behaviour.
Build strong relationships with your customers by sending emails with a personal touch.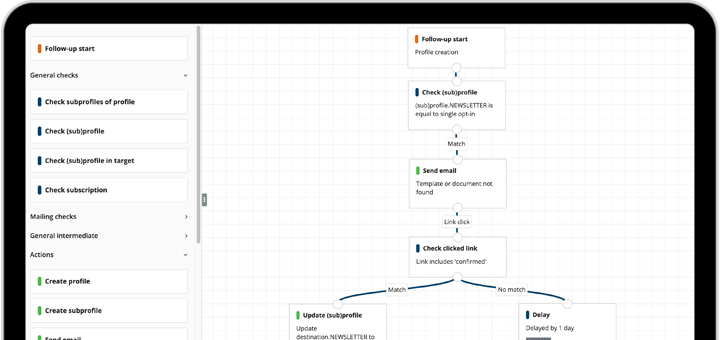 The user-friendly follow up manager is our Swiss army knife. It helps you create automated campaigns on the fly and lets you decide on what conditions your customers will receive your emails. You can now finally build valuable relations with your customers as never before.
Triggers
When a click is registered, the follow up manager starts doing his job. This is what we call a 'trigger'. No need to do anything, your emails are underway.
Set up decision moments
By setting up decision moments, you decide what your customers will see. You can set up actions based on customer behavior. For example, their spending amount.
Insert actions
Improve the customer journey by sending the right email at the right time. Every possibility to attract your customers to your business is embedded in the follow up manager.
Let JavaScript do the work
Through JavaScript it's also possible to store customer data. You can execute these actions later on to develop sophisticated follow-up actions. We already set up various scripts for you.
---
Email marketing campaigns
---
Double opt-in
A double opt-in campaign is an effective way to know if anyone wants to sign up. This way you don't send mail to people who didn't sign up. Keep your mailing list clean and ensure a good delivery reputation. As part of a welcome campaign, a double opt-in can be very valuable.
Profile enrichment
Using the follow up manager, it is very easy to send a follow up email. Following the double opt-in campaign for example. Give a welcome gift and request extra information to enrich your profile.
Lead generation and Lead scoring
To start with automating your marketing activities, lead generation and lead scoring are essential. To find out how hot your leads are, you can apply link scoring. The follow up manager is the perfect tool to send leads the right funnel.
Building relationships with customers
This is an example campaign of a webshop, which sends special offers to their best customers once they have spent a certain amount and have reached the VIP status.
Try now