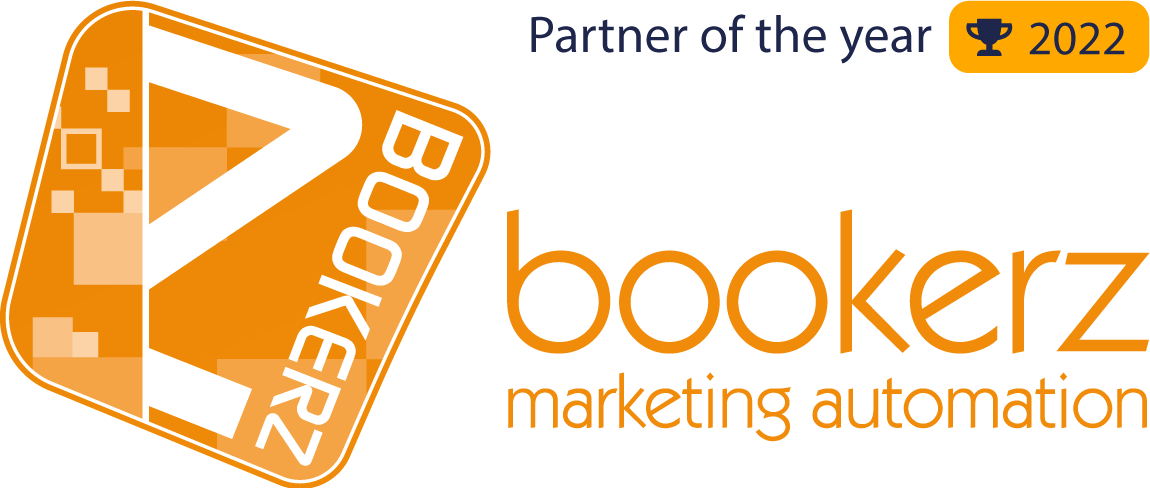 Copernica partner Bookerz
Met slimme software integreren wij on- en offline gedrag van uw (potentiële) klanten in uw marketingsysteem. Zo kunt u geautomatiseerde campagnes inrichten en gepersonaliseerde content creëren. Dat is dus niet alleen 'Beste Jantje' boven een e-mail. Echt personaliseren, betekent dat Jantje ook echt een andere mail te zien krijgt dan Joep, Marieke, Gijs en al uw andere (potentiële) klanten. • Bookerz is specialist in marketing automation. We blinken uit in maatwerkoplossingen rond Copernica. Wat ons uniek maakt, zijn onze data-integraties. Simpel gezegd: wij koppelen álles. Gegevens uit uw CRM-systeem, ERP-software, boekhoudpakket, kassa, webshop, website, loyalityprogramma en/of betaalsysteem worden met onze koppeling(en) automatisch gesynchroniseerd met Copernica. Onze e-mailmarketeers kunnen vervolgens klantgestuurde mails voor u bouwen. Een paar voorbeelden: • Relevante producten in een nieuwsbrief. Iemand die gisteren een wasmachine kocht in winkel X, biedt u volgende week geen wasmachines aan via uw e-mail. Juist strijkijzers en wasdrogers doen het op dat moment goed. Met een data-koppeling creëert u de juiste content voor deze klant. • Producten voorzien van recensies. Superbelangrijk voor potentiële klanten! Wij kunnen de volgorde en aanwezigheid van producten in een review-mail automatiseren, zodat dit aansluit op al aanwezige reviews en uw productvoorraad. Zo worden meer producten in uw webshop relevant. • Stimuleren van herhaalaankopen. Bij producten met beperkte houdbaarheid of gemiddelde verbruikstijd kunt u geautomatiseerd een aanbieding doen op het moment dat u verwacht dat een klant het product wil vervangen. • Bookerz werkt multidisciplinair, met een team van onder meer developers (backend én frontend) en e-mailmarketeers. Al jaren werken we intensief samen met Copernica en tal van andere Copernicapartners. Inmiddels ondersteunen we honderden gebruikers. In 2012 zijn we verkozen tot 'beste nieuwkomer'. Tegenwoordig sturen onze klanten ruim 2 miljoen gepersonaliseerde e-mails per dag, registreren we miljarden transacties door middel van honderden koppelingen met Copernica. Ervaar wat e-mailmarketing u kan opleveren! Neem contact met ons op.
Copernica partner
As a partner of Copernica, Bookerz offers their full support and services to deploy Copernica Marketing Software as effectively as possible. For example, through creative and automated email campaigns. With Copernica, you can create valuable contacts. Find out how Bookerz can help you further.
Automated campaigns
Get personal by implementing the following email campaigns. With these campaigns, you can communicate with high degree of relevance.
Personalized newsletters
Use data to create creative and hyper personal email campaigns. Simply increase your CTR and COR.
Customer retention
Retain customers with interesting offers or relevant information based on customer data.
Repeat purchase
Send an email or SMS when a customer is most likely ready for a repeat purchase.
Abandoned shopping cart
Easily create an abandoned shopping cart email campaign and increase your turnover.
Reactivation campaign
Reactivate people after a long period by sending an email with a personal deal. For example, trade in an old product with a newer one.
Birthday campaign
Send a birthday campaign with a personalized discount offer.
---